WiiDrives Utility
This is a small utility to make it simpler to submit Wii console details to the Wii Drive Chip Database.
Features:
Made for installers/modders in mind
Simpler and faster to submit entries
Remembers last entered data
Validates the data before submission
Instant view button to check the new entry
Notification if an update is available
Note: An Internet connection is required to use this utility.
Latest version: v1.3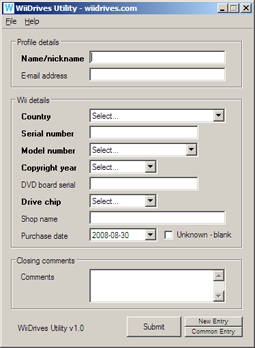 Credit goes to OzModChips.com for the initial client idea, inputs during the development, and beta-testing the client. Thank you.